Rock n' Roll Camp for Girls Los Angeles is a social justice non-profit dedicated to empowering girls and gender-expansive youth through music.
We've had to cancel this year's in-person camp sessions because of COVID-19.
We're now transitioning to an online summer camp experience called ROCK CAMP EXPRESS (RCX), and we hope you will join us!
We're committed to providing a safe and supportive space for girls and gender-expansive youth – even if it's online!
There are 4 programs to choose from over the course of 3 weeks.
Click on a program name to learn more and apply:
Applications are due by Friday, June 19th.
I love being in such a positive environment.
She feels strong, engaged, challenged, and accepted here.
[RCGLA] is the one thing she looks forward to more than anything else all year long.
It made me feel more confident and I made new friends.
Over the years, RCGLA has remained a shining light and source of strength, positivity, acceptance, and love.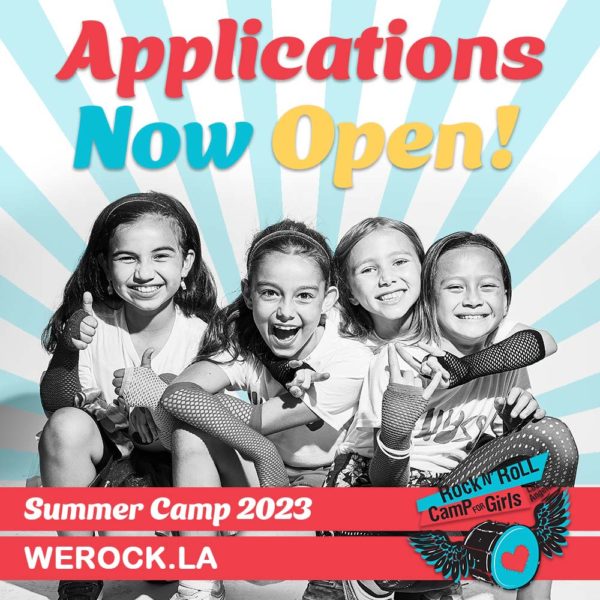 2023 Camp Applications Are Now Open!
Session 1: June 26 – 30
Session 2: July 3 – 7
🎶 Summer Camp
🎬 Music Video Program
⚡️ Volunteer-In-Training Program
🌈 Volunteering

Mark your calendars ✍️ Summer Camp 2023 dates are here! 😍
Session 1: June 26-30
Session 2: July 3-7
Details ➕ applications coming March 1st, including Music Video Program!
All are invited to an afternoon of community and crafting at Junior High – a community arts space we've partnered with for years. Our Annual Feminist Holiday Card-Making Party is Sunday, December 11th, 2-4pm.
Make a card for yourself, or your loved ones! Chat with friends from camp while sipping on hot cocoa! We'll provide everything needed for you to craft your heart out, PLUS inspiring words from and images of your favorite feminist icons to incorporate into your designs.
This event is FREE and ALL AGES, and will be held indoors. Hope to see you there!
Please enter an Access Token on the Instagram Feed plugin Settings page.