Rock n' Roll Camp for Girls Los Angeles is a social justice non-profit dedicated to empowering girls and gender-expansive youth through music.
We've had to cancel this year's in-person camp sessions because of COVID-19.
We're now transitioning to an online summer camp experience called ROCK CAMP EXPRESS (RCX), and we hope you will join us!
We're committed to providing a safe and supportive space for girls and gender-expansive youth – even if it's online!
There are 4 programs to choose from over the course of 3 weeks.
Click on a program name to learn more and apply:
Applications are due by Friday, June 19th.
I love being in such a positive environment.
She feels strong, engaged, challenged, and accepted here.
[RCGLA] is the one thing she looks forward to more than anything else all year long.
It made me feel more confident and I made new friends.
Over the years, RCGLA has remained a shining light and source of strength, positivity, acceptance, and love.
2022 Camp Applications Are Now Open!
Deadline to Apply is April 8th
Session 1: June 20 – 24 (in person)
Session 2: June 27 – July 1 (in person)
Session 3: August 15 – 19 (virtual)
Youth ages 8 – 17 are encouraged to apply. Previous musical experience is not required. All skill levels are welcome including total beginners. Tuition assistance is available and no one is turned away for lack of funds.
The Volunteer-In-Training program is back for former campers ages 17 – 18.
The Music Video Program will be offered in Session 1 for campers ages 12 – 17.
We are accepting a limited number of New Volunteers!
Everybody gather 'round, the time has come to start thinking about camp!
Save these dates!
Session 1: June 20 – 24 (In-Person)
Session 2: June 27 – July 1 (In-Person)
Session 3: August 15 – 19 (Virtual)
Dates & Applications available March 15th.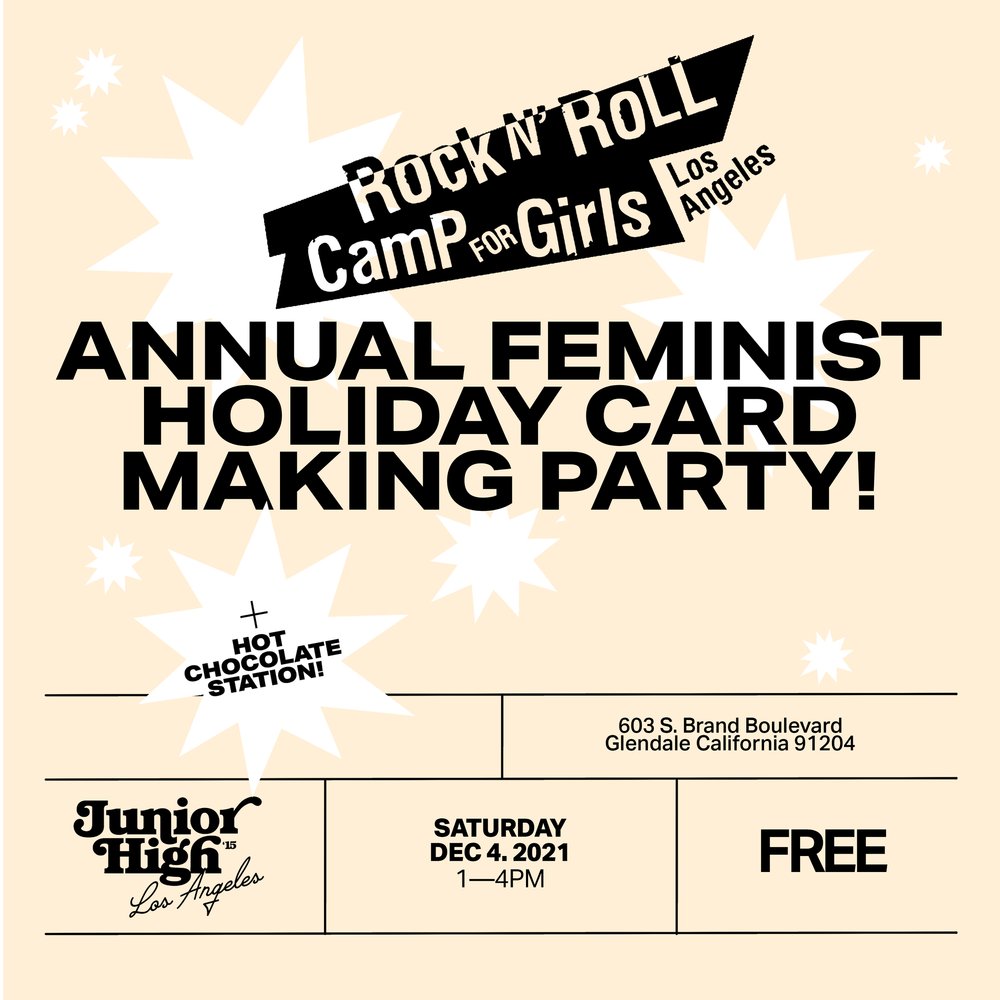 WORKSHOP | FREE | ALL AGES | Join us for an afternoon of community, crafting, and celebration of past and present feminist icons! Make holiday cards to send to your loved ones while sipping on hot cocoa or apple cider. All materials provided. This event is free, all ages, and outdoors. Proof of vaccination is required for ages 12+. Presented by Rock n' Roll Camp for Girls Los Angeles & Junior High.
As of August 2021, Junior High requires masks indoors at all times. COVID-19 vaccinations are mandatory to attend events. Proof must be available upon request. You may access your Digital Vaccination Record here.
This event will be outdoors.
Please enter an Access Token on the Instagram Feed plugin Settings page.